WELCOME TO NAPLES
ICEM2017 CONFERENCE VENUE
This year's ICEM Conference will be held in Southern Italy, in the beautiful city of Naples. The venue is the Congress Center of the University of Naples Federico II, which enjoys a superb seafront location opposite the picturesque castle and close to the best hotels.
Naples is currently attracting huge numbers of tourists from around the world, drawn by the sunshine, the people, the art and the food. We suggest you book your accommodation well in advance to avoid disappointment.
Address: Via Partenope, 36, 80121 Naples
Email: info@icem2017.eu
HOW TO REACH NAPLES
Naples is served by Naples Airport, also known as Capodichino Airport. Located at 7 km northeast of the city centre, it is the southern Italy's main airport, linking Naples with most Italian and several major European cities, as well as New York. Serviced by a number of major airlines, including Alitalia and British Airways, the airport also hosts a number of low-cost carriers. Among the latter is Easyjet which connects Naples to several European cities, including London, Paris (Orly) and Berlin.
For the moment the airport it is not served by any rail system. But to move from Capodichino International Airport to Naples you can take Alibus (ticket 3€) or Taxi. Alibus stops to Stazione Centrale (Central station) and Piazza Municipio, near the main ferry port (molo Beverello).
You can buy Alibus tickets on board the bus (with supercharge of 1€ for each ticket) or also at the Sun Store shop in Naples International Airport Unico or at Tobacco Shops. Alibus Ticket allows only one journey on the shuttle Alibus, on the route Naples International Airport / Central Train Station / Piazza Municipio (port) or vice versa, and the use of all means of transport of the Companies participating in the UNICOCAMPANIA consortium within Naples urban area. The ticket is valid for 90 minutes from the rst validation. You must validate your ticket as you enter the bus or train station when using it for the first time. Having a ticket that has not been validated is the same as not having a ticket at all. Yellow validation machines are not always obvious – you may have to look for them. Inspectors regularly stake out the connections between stations to make sure that travellers have valid tickets. Having an unvalidated ticket will get you a spot fine of 37-100 euro.
The main railway station is Napoli Centrale – Piazza Garibaldi Station. The station is located in the square dedicated to Giuseppe Garibaldi. This Naples station serves as the main departure station for Notherns and Southern Italy.  Cities commonly traveled to from this station are Milan, Rome, Florence, Palermo, ecc. The costs of trains from / to Rome vary a lot, ranging from a 10.50€ 3-hour regional train to 1-hour 10-minute high speed FrecciaRossa starting at 29€. The new high speed train Italo (provided by the private company NTV) offers competitive prices (booking in advance the price can be just 19€).
The lower level of the station includes the Piazza Garibaldi connected to the Naples subway system and Circumvesuviana annexes (this  latter serving private local trains to Pompei and Sorrento).
Also the  buses R2 or 601 from the Piazza Garibaldi in front of the train station will take you within three blocks of the ferries at Stazione Marittima.
Naples is directly connected with Rome by the A1 highway, and the trip takes generally less than 2 hours. Due to traffic jam and parking shortage in city center, it's advisable to leave your car in a parking lot near the motorway exit or your accommodation, and to use public transportation.
Participants are expected to make their own arrangements for accommodation. A list of recommended hotels in Naples is provided below.
Be aware that tourism is booming in Naples and September is a popular period. Be sure to book in advance.
Many of the hotels near the Conference venue offer special rates for participants.
Please note that a tourist tax of 2,50 Euros (3,50 for 4stars hotels) will be charged by the hotel per person per night.
A limited number of rooms are available at special conference rates by mentioning the UNINA-ICEM17 code
Hotel Royal **** (agreed-upon rate)
via Partenope 38/44
To book: book@royalcontinental.it
Dus classic 130,00 euros
Dus superior 150,00 euros
(in the case of double person occupancy, there will be an additional charge of 20 Euros)
Hotel Rex *** (agreed-upon rate)
Via Palepoli, 12
Single room 90,00 euros
Double room 110,00 euros
Please to book this hotel fill in and send the form
Grand Hotel Santa Lucia **** (agreed-upon rate)
Via Partenope, 46
Dus classic: 150,00 euros
Double classic: 170,00 euros
Dus deluxe sea view: 190.00 euros
Double deluxe sea view: 220.00 euros
To book: +39. 081.7640666 or via mail reception@santalucia.it
Partenope Relais **** (agreed-upon rate)
Via Nicolò Tommaseo 1
Single room (classic): 125,00 euros (superior: 155,00, deluxe see view 200,00)
Double room (classic): 155,00 euros (superior 180,00; deluxe see view 225,00)
GETTING AROUND NAPLES
Guided Tours 
We have organized a series of special tours to help you make the most of your time in Naples, making sure that you don't miss out on any of the "must-sees" in and around the city.
Details of the tours will be published soon.
However, if you prefer to organize your own tours and visits to the various sights in and around Naples we include here below information regarding the main transport systems you will need to use.
There are different types of tickets (biglietti) for buses and metro lines.
Bus tickets should be bought at "Tabacchi" (tobacco shops) or newstands.; metro/train tickets directly at the relevant station.
Single Journey:                                  € 1,10
Combined ticket (90 minutes):      € 1,60 (unlimited bus travel + one metro journey within 90 minutes)
Daily travel ticket:                            € 4,50 (unlimited travel on all buses and metro)
You must validate your ticket as you enter the bus or train station when using it for the first time. Having a ticket that has not been validated is the same as not having a ticket at all. Yellow validation machines are not always obvious – you may have to look for them. Inspectors regularly stake out the connections between stations to make sure that travellers have valid tickets. Having an unvalidated ticket will get you a spot fine of 37-100 euro.
Useful transit hubs are Piazza Garibaldi for trains and buses and Aereoporto Capodichino, the main airport for Naples. Most bus and trolley lines go to the main Garibaldi/Napoli Centrale railroad station, and many go past P.za Plebiscito (Castel Nuovo, Royal Palace , Opera House).
The Metro is currently being extended to better serve the historic area.
At present, two metro lines depart from Piazza Garibaldi (under the Central Station). The line  1 (trains every 8 minutes) goes to University, Toledo, Piazza Dante, the National Archeological Museum, and then up the Vomero Hill, while the line 2 (trains every 12 minutes) goes from Garibaldi train station westward to Pozzuoli, through Chiaia, Mergellina and Fuorigrotta (San Paolo Stadium).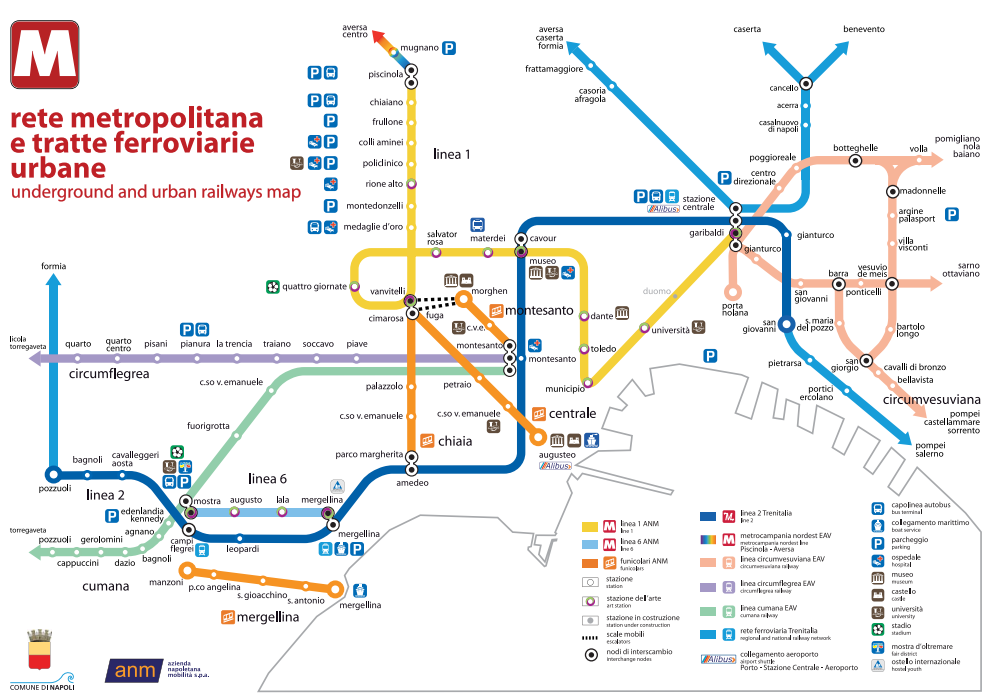 Another transport option is the funicular lines, there are three lines running from historic center to the Vomero Hill, and one line running from Mergellina to Posillipo hill. A funicular is basically two special rail cars, each attached to opposite ends of a long cable, use for climbing and descending hills.As one goes up hill, the other goes down, and they cross in the middle. Three of these lines run from the hilltop Vomero neighborhood to various parts of downtown; the fourth runs from the bottom to the top of Posillipo. The funiculars can be a time-saver. For example, take the funicular from near the Royal Palace (up Via Toledo about one block) to Vomero, then walk a couple blocks to the other funicular station and go downhill to the Metro stop — easy access to the Phlegrean Fields, Mostra d'Oltremare, Pozzuoli, or even downtown Naples.
You can download the App Gira Napoli, for IOS and Android to see the lines, stops, waiting times, etc.

Taxi
You can use one of the following numbers to call a taxi (the Italian country code is +39):
Radiotaxi Napoli: +39 (0)81 5707070
Radiotaxi Napoli: +39 (0)81 5564444
Radio Partenope: +39 (0)81 5560202
Taxi urba rates:
From/to Capodichino Airport to:
Seafront Hotels and Centro Congressi:       € 23,00
Beverello Harbour:                                          € 19,00
Municipio Square:                                           € 19,00
Central Station (Garibaldi Square):             € 16,00
Naples is a fascinating place to visit with a hugely rich and colourful history. Below are some of the things we would recommend.
Possible walking tours:
A) CENTRO STORICO
Santa Chiara Cloisters
The veiled Christ statue in the San Severo chapel;
Via San Gregorio – the road where they sell the Christmas Nativity scenes which is a fully-blown artistic movement in Naples since 18th century;
Napoli Sotterranea – a visit under the church of San Lorenzo  into the bowels of the city where you can see layers of history Greek Roman Medieval and Modern day one on top of the other.
All churches in the Centro Storico are very interesting but the one showing the cult of the dead, with an underground cemetry and small altars where "unknown" skeletons with no family were adopted by members of the congregation is unusual, the Santa Maria delle Anime del Purgatorio ad Arco Church.
B) POSILLIPO
A walk in Posillipo down the hillside to see La Gaiola and the Grotta di Seijano – you need to take a bus (140) and then walk quite a lot but this combines a Roman Tunnel, a Roman Villa and stunning views of the area with a visit to a marine nature reserve where you could swim and canoe weather permitting.
C) SHOPPING
A walk around the glamorous shopping streets of Via dei Mille, Piazza dei Martiri and Via Calabritto.
D) OUTSIDE NAPLES
The problem is that the area is also really fantastic. It is very subjective but the must-haves are:
Vesuvius and Pompeii
Sorrento
A day on the stunning island of Capri, Ischia and Procida
A day on the Amalfi coast visiting Positano, Amalfi, Ravello
You can reach Sorrento, Positano, Capri, Ischia and Procida by hydrofoil (aliscafo) from the Molo Beverello Maritime Station at the foot of P.za Municipio. Tickets can be purchased on a walk-up basis, though we recommend buying online in advance where possible. Multiple companies and boats depart each day about every 30 minutes, subject to seasonal availability, but the main ones and most reliable websites are:
You can reach Pozzuoli and the volcanic Campi Flegrei area (sandy beaches, lakes and archeological sites) by Cumana commuter train, that departs from Montesanto every 20 minutes.
So many good places it is hard to know where to start but the must-have are obviously a pizza and pasta and some of the delicious vegetable dishes called "contorni". Most good and reasonably-priced eating places are in the Centro Storico – the old part of town where most of the tourist attractions are too.
Best and most "neapolitan" pizzeria in the Centro Storico has to be Di Matteo on Via Tribunali, 94.
Great trattoria is La Campagnola on Via Tribunali, 47.
For pasta with ragù – the local equivalent of spag bol – the best place is Tandem.
In terms of street food, in the Centro Storico you should also try a Cuoppo – a bag of fried fish, a Frittata di maccaroni – a pasta omelette, there is a wonderful new place on Via Tribunali 73 called Giri di Pasta 
Crocchè di patate – a huge and delicious fried potato thing.
For cakes you cannot leave Naples without trying at least a Babà, the local version of a giant Rum Babà, and a sfogliatella which is a crispy ricotta-filled pastry eaten warm.
Within walking distance of ICEM venue:
Sorbillo pizzeria (Lievito madre al mare) on the seafront (Via Partenope, has the best pizza
Gusto&Gusto di Antonio&Antonio on the sea front (Via Partenope) has a varied menu and is reasonably-priced.
Ristorante Umberto (Via Alabardieri 30/31) is a classic restaurant that serves fish as well as other things – good quality and reliable – not expensive but not cheap either.